If you're visiting Ireland soon and you're looking to experience the best time of your life, consider yourself lucky: Ireland is awesome during the fall. Cool yet comfortable weather comes whispering in during September, October, and November. The country looks breathtaking too, with patches of red, orange, and yellow taking over the green landscapes of Emerald Isle. 
In other countries, autumn and winter tend to be sleepy seasons meant for enjoying hot cocoa at home — not in Ireland! This is the time of the year where the country comes alive. Aside from lovely weather and picturesque sceneries, Ireland in fall is also buzzing with an astounding array of festivals, holidays, and opportunities for day trips. 
If you're planning an autumnal trip to Ireland soon, here are 7 of the best things you can do. 
1. Enjoy the Fall Harvest
Harvest festivals have been held to show gratitude for the bounty of the season since the pagan times. Ireland keeps the tradition alive during the fall. 
The Waterford Harvest Festival, for example, is a celebration of food from farm to plate. The festival involves cooking demonstrations, workshops and grow-it-yourself seminars, and displays and sales of artisanal food. 
Another celebration is the National Ploughing Championships toward the end of September. It's one of the biggest outdoor farming events in Europe, featuring a display of livestock, sheepdog trials, and competitions, like the all-Ireland lam shearing contest and National Brown Bread Baking contest. 
2. Eat warm and hearty Irish classics
Don't listen to the stereotype that Irish cuisine is nothing but cabbage and potatoes — well, most of their dishes do have a lot of those veggies but rest assured they've got warm, hearty, and healthy dishes that are perfect for the cold weather. They've got Irish lamb stew, coddle, cottage pie, seafood chowder, and Ulster fry. 
If you're visiting Ireland from a hotel in Cork, consider yourself lucky: Cork, which is dubbed as the Food Capital of Ireland, is a hub for top-notch restaurants, bars, and cafes. The Farmgate Café situated just above the English Market is a great bet when it comes to traditional Irish foods, like Irish lamb stew and Tripe and Drisheen. If you're looking for a satisfying Full Irish Breakfast, Tony's Bistro is a must-visit place. Lastly, don't leave the city without sipping a warm cup of chocolate at Ó Conaill Chocolate Factory.
3. Spend the best Halloween in Ireland
If you love Halloween, Ireland will never disappoint. Besides, Halloween originated in Ireland from Samhain, an old Irish pagan celebration. With this, expect the locals to make this world-renowned celebration a big deal. 
During the end of October, the Halloween festivals from the different corners of Ireland are much-anticipated. Expect fireworks displays, street theater performances, wicked arts and crafts, elaborate parades, fancy costumes, and a range of food and drinks. Some of the best festivals are Derry Halloween (Derry). Virginia Pumpkin Festival (Co. Cavan), and Halloween Monster Mash (Belfast). 
4. Celebrate the annual Bram Stoker Festival with the locals
Speaking of Halloween, did you know that Dracula has Irish blood (pun intended)? People of all ages know Dracula, the world-famous vampire who's been scaring people since 1897, but only a few know who created him. Bram Stoker, a famous Irish author, is the man who wrote the horror novel Dracula. Dublin has a four-day city-wide celebration to honor his life, work, and legacy.  
From October 26-29, the city is illuminated with red lights during the Bram Stoker Festival. The celebration includes literary and theatrical events, Gothic-inspired concerts, acrobatic performances, ghost walking tours, and a Halloween parade. 
5. Visit Ireland's Most Haunted
Aside from a wide range of Halloween parades, parties, and events to participate in, the Emerald Isle has a long list of haunted destinations you should visit (at your own risk). 
Fan of haunted houses? Level up your scare game by visiting haunted castles and mansions with a gruesome past. Stories of murders, massacres, and devil apparitions will send shivers down your spine when you visit Leap Castle in Offaly, Malahide Castle in Dublin, Ballygaly Castle in Antrim, and Loftus Hall in Wexford.
Not creepy enough? Try visiting a haunted gaol or jail, asylum, and abandoned cult house. Ireland has all of these. Most of these haunted places host guided interactive tours for history and paranormal buffs. Some of them even allow thrill-seekers to spend the night in their facilities. Are you brave enough? 
6. Enjoy the breathtaking scenery during the shoulder season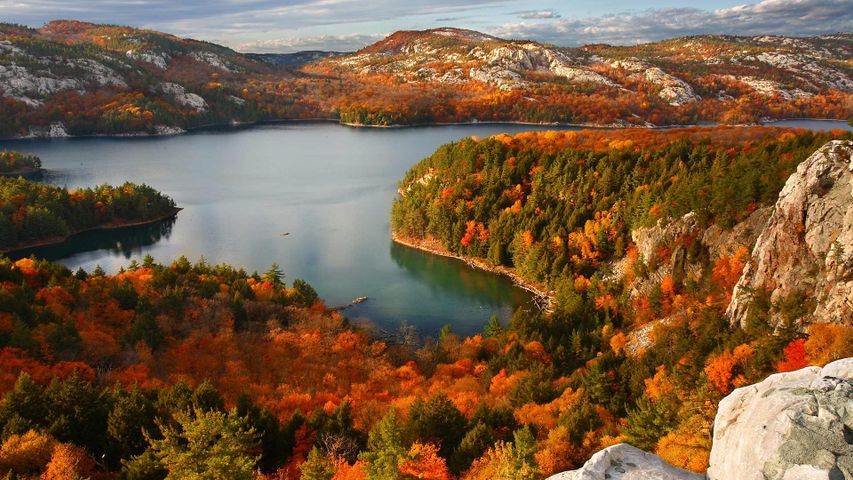 Nothing screams "autumn" as much as walking in the woods and feasting your eyes on crisp, amber-colored leaves. 
Ireland is picture-perfect all year round wherever you are. But if you're looking for the best places to make the most of the lovely autumn colors, we recommend a few postcard-worthy spots. 
Killarney National Park, in the heart of County Kerry

Ross Castle, a 15th-century tower on the edge of Lough Leane

Glenariff Forest Park, a whimsical 3,000-acre woodland in Northern Ireland

Powerscourt Estate and Gardens, Ireland's tallest waterfall

Connemara in Galway

The Wicklow Mountains

Altamont Gardens in County Carlow.
Another advantage of visiting during the fall is avoiding crowds, especially during September and October. 
7. Catch the Northern Lights 
If you're in Ireland during November, which is the latter part of Fall and the beginning of winter, you may chase the Aurora Borealis. 
Ireland has a lot of ideal spots that provide the perfect angle for viewing. You may travel to Northern Ireland and Inishowen Peninsula, Dooey Beach, Malin Head, and Fanad Head in County london Donegal for the best views. A few spots in counties Kerry, Sligo, and Mayo also provide great views. 
Author Bio: Carmina Natividad is a free-spirited writer who loves exploring the great outdoors. She loves traveling, eating, taking food and streetscape photographs, and simply enjoying new experiences and writing about them.